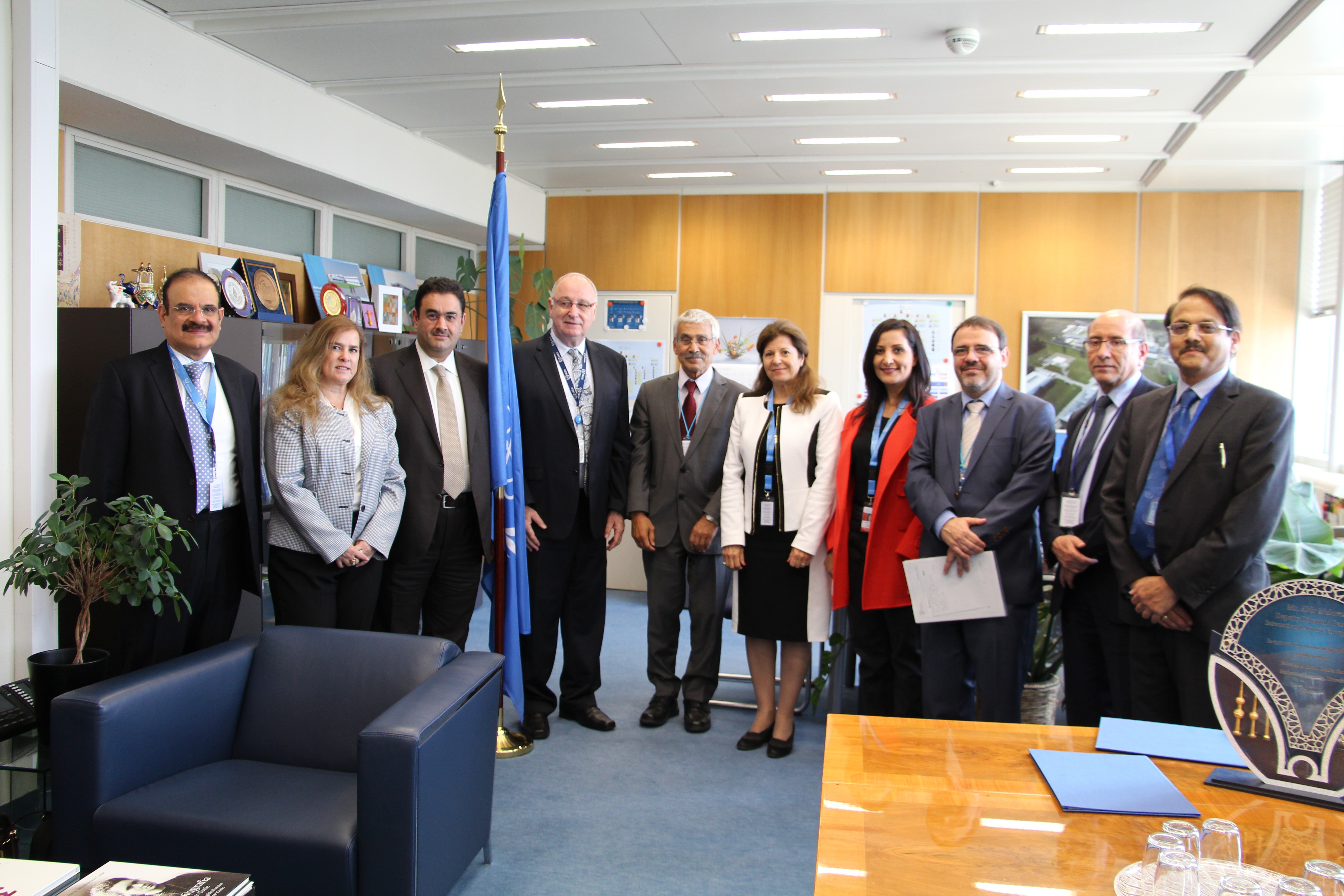 Jaber Al-Ahmad Al-Sabah Molecular Imaging Center (JAC), one of the centers of the Kuwait Foundation for the Advancement of Sciences' (KFAS), signed an executive agreement on the 26 September 2016 with the International Atomic Energy Agency (IAEA) in Vienna to strengthen cooperation between the two parties in the field of peaceful nuclear use, particularly in the field of nuclear medicine.
The agreement was signed on the sidelines of the 60th session of the IAEA General Conference, by Dr Adnan Shihabuddin, KFAS Director General, and Aldo Malavasi, IAEA Deputy Director General of the Department of Nuclear Sciences and Applications. Dr Shihabuddin announced that this agreement was the first with the IAEA in the field of nuclear medicine and pointed out that it materialized as a result of hard work and intensive coordination with the agency in the past few months to adopt a mechanism of mutual cooperation in the field of nuclear medicine.
He also noted that based on the agreement, a number of training courses will be launched for specialists on positron emission tomography (PET) and the production of radioactive materials including sound and safe production practices, the exchange of data and information of mutual interest, and the dissemination of relevant research findings through publication. Director General of the Kuwait Institute for Scientific Research (KISR) Dr Samira Omar, praised the agreement, stating that it falls within the framework of the outstanding cooperation between Kuwait and the IAEA in peaceful nuclear applications in medicine, particularly in nuclear medicine.
JAC Director Dr Nahil Al-Nafisi said that signing this agreement represents the culmination of the joint cooperation between the agency and the center, which started from the beginning of operations at the center and has continued for the past three years. Dr Nafisi added that the center has hosted many IAEA experts in the past to study the work protocols and assess the radiation protection procedures, as well as to oversee that applications are within international standards to ensure quality of production of radioactive materials.
She noted that the center has participated in several regional technical workshops and international scientific conferences organized by the agency. The signing ceremony was attended by H.E. Sadiq Marafi, Kuwait's permanent ambassador to the United Nations in Vienna, Dr Omar, Dr Nafisi, Dr Nader Al-Awadi, and KISR Executive Commissioner for International Cooperation and the national focal point with the IAEA, in addition to members of the permanent mission of Kuwait to international organizations in Vienna. The IAEA side was represented by Dr Diana Beiz, Head of the Nuclear Medicine Department and a number of IAEA officials.
"JAC and IAEA sign cooperation agreement in nuclear medicine", Kuwait Times, 28 September 2016